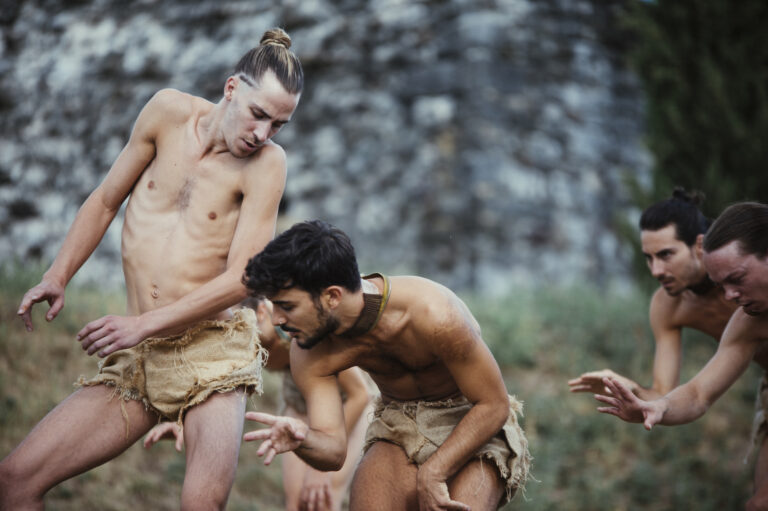 Choreography
Pablo Girolami
Dancers
Clementine Herveux, Sau-Ching Wong, Giacomo Todeschi, Guillerme Leal, Samuele Arisci
Music
Urubu feat J. Abramovay, Geju, A Macaca & Peter Power, Holed Coin, Alim Qasimov, Fargana Qasimova, Troja, Nico Sun & Slow Nomaden, Acid Arab feat Radia Menel
Duration
1 hour
Co-producer
CID Rovereto – Festival Oriente Occidente, Amis du MDC – Melinda Stampfli – Neuchâtel, Associazione Contart, with the support of TWAIN_Centro di Produzione Danza Regionale and PERIFERIE ARTISTICHE – Centro di Residenza Multidisciplinare della Regione Lazio, Centro Nazional di produzione della Danza DANCEHAUSpiù
"Manbuhsona" is an evolution. A couple to a community, a day long trip to a life journey. It's a one way ticket to our origins. We will need to find our instinct back, research into our past in order for our foundations to be solid and stable. A journey in time and space that will connect our roots to our future. Personal challenges will be overcome and relationships will be created aiming to build a symbiotic community. We will immerse us in the nature and inspire ourselves from the beauty of our surroundings.

The piece is separated in two acts, each composed of three states.
Act 1 : Confusion, Contemplation, Revelation
Act 2 : Inspiration, Illumination, Discovery

Both acts are highly connected and only separated with an intermission. As the end of the first one will be the beginning of the second one, The audience will experience a continuity of the journey. Each separate acts can also be performed independently allowing the audience to imagine how the journey begins or ends.